I will be the first to say that picking a floor is a huge decision. There's no getting around it, that's for sure.
The pressure to choose the right type of product, on top of nailing down your exact design style, are some pretty major choices to make at the start of a project.

That's why I went into heavy research mode when it came to choosing a new floor for my unit. I needed to make sure I was installing something durable enough for commercial use.
After a visit to the Karndean showroom (which, you can read all about in my previous post), I had everything I needed to make a final decision. Ultimately, I chose to go with the Karndean LooseLay Longboard in Pearl Oak.

I picked this product mainly for its durability, the easy installation and the aesthetic of the Pearl Oak, but there are a ton of additional benefits that come along with this LooseLay product.

When they say installation is quick and easy, they really mean it. The backside of the plank has a green K-Wave friction grip. When you place it on the floor, it automatically stays in place creating a strong bond to the subfloor. There's no need for adhesive.
In our situation, since we are a retail space, I wanted the added protection. Karndean does have a K-Spray adhesive, which we used in some of the heavy traffic areas.

When placing the planks on the floor, a tight fit is needed to keep it all in place. Cutting and trimming the LooseLay Longboards is the best part—you literally score it with a razor knife and snap. The minimal mess is a huge plus in my books!

I absolutely love the soft hues of Pearl Oak. The depth of colour, combined with the realistic look of wood, really nailed my vision. It has a slight undertone of grey making it the perfect foundation for the soft colour palette I will be using.
Pro tip: always take flooring into consideration when choosing paint colours. The undertones matter and you want something that complements each other.

It took us a little over a day to complete the entire unit (front retail space, bathroom and kitchen).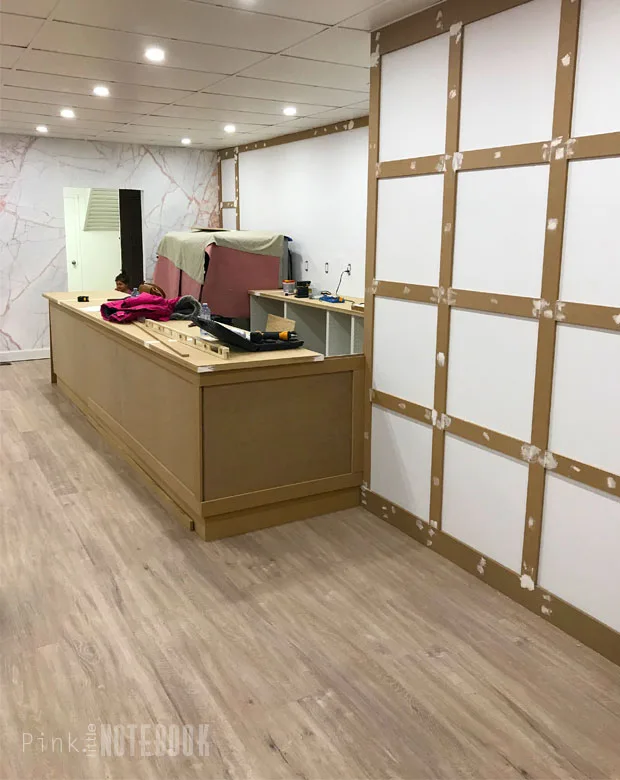 With the floors finally complete, things are coming together rather quickly. Counters are going in, molding and trim work on the walls. Oh, and lots of paint coming soon!


Click through these links to see more about our shop makeover: Some Pretty Exciting News, We all Scream for Ice Cream!, Old Dated Ceiling Tile-No Problem, DIY: How to Update Old Ceiling Tile, Marble Accent Wall with Murals Wallpaper, Is Vinyl Flooring a Good Choice?, Our New Karndean Floor, DIY Laminate Countertops, Finishing Details, Final Reveal: My Ice Cream Shop
Disclosure: I only use products I love and trust. I'm ecstatic, Karndean Designflooring, has agreed to partner with me in my unit makeover. As always, this post reflects my honest thoughts and opinions.