This post is long over due but it's finally here, my home office reveal!
First, I think you need a little reminder of what it looked like BEFORE.

Now prepare yourself for the "AFTER" photo….Ta daaaaa….


Damask Area Rug | Chair | Drapes | Blue Desktop Stain
I'm psyched about this new transformation.  When we moved into our house, this was the smallest and barest bedroom.  Although I immediately had plans to convert this to a home office, I just never
got around to it.  The tiny desk and red chair (which were brought over from our condo unit) seemed to do the trick for a while.  However, I no longer had a small corner to work with, I had an entire room to fill. So the makeover began…with the help of my sidekick, Mike, and his father, Big Joe, of course!
I infused this room with lots of soft colours.  Steering away from my typical decorating style, I wanted this room to feel different from the rest of the house.
The patterns, textures and colours used in this space helped to create an energetic and unique feminine feel.  I needed it to be a space where I can get creative and double as a place to store all of my work and craft supplies.


Damask Area Rug | Chair | Cushion 
This desk was an online Kijiji purchase and you can see how I totally transformed this unit here.  Big Joe added an extension to the desk which allowed me to get a larger work surface (my number one item on the "must-haves" list). 
All of those horrible computer cords are now concealed and my computer gadgets have a place to hide in the below cabinets. I love the built-in shelves above the desk.  The height of them actually make the room feel larger.




My skull head sits proudly on top of my magazines! The tutorial can be found here.

On the opposing wall, you will find my gallery wall.  I have collected several frames to showcase some of my favourite things such as my drawings, inspirational quotes and diplomas.

With a little paint and a DIY frame, this ordinary cork board was revamped into a vision board.


And I can't forget about my DIY chandelier and striped wall.  Theses simple projects made the biggest impact in this home office.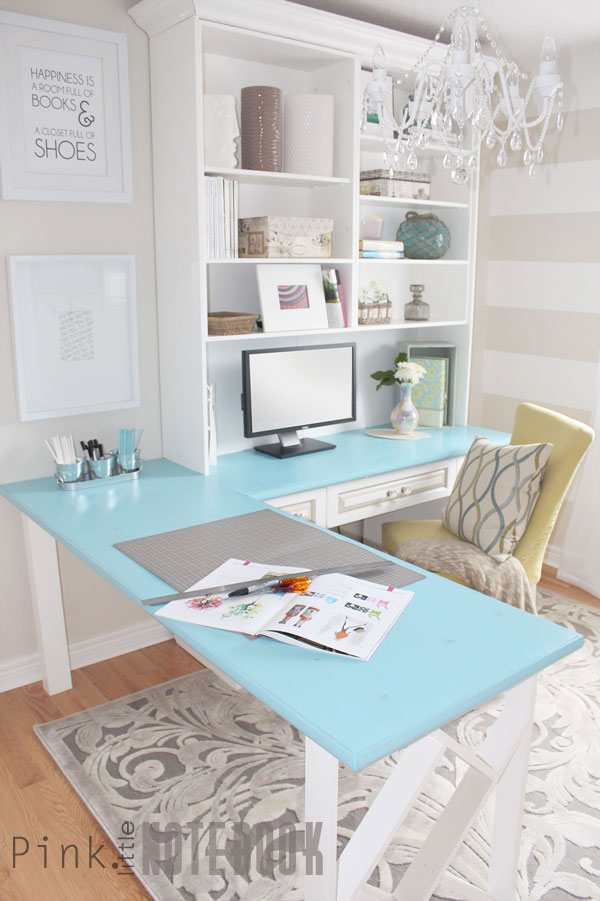 Damask Area Rug | Chair | Drapes | Blue Desktop Stain | Cushion 
Well…there it is. Sigh.  This will continue to be a work in progress but for now it's just right!