A kitchen soffit (aka bulkhead) is something that majority of us have in our kitchens. They are often created to hide wires, pipes or other mechanicals in our kitchen. Sometimes they are even there to just fill the space above your cabinets. Either way, I personally find most soffits can make a home feel dated and extremely closed-in.

When it came to our kitchen renovation, we had no idea what was behind our soffits. I debated whether or not I should remove them or somehow just work with them. Ultimately, I really wanted ceiling height cabinets and finally decided that the only way I knew if I could get them was to remove everything. And that's what we did. https://theaffordabledental.com/cialis-online/

As it turns out, we did have pipe work running behind our soffits in one area. So here's how I came up with a simple yet effective way to get the look that I was after—all while trying to camouflage that dead space above. https://theaffordabledental.com/metformin-online/

To create our flush box, we used 5/8″ MDF board cut-to-size. Leaving about an inch from the top of the ceiling makes it easier to grip the panel when installing. https://theaffordabledental.com/generic-propecia/
Prior to securing the pieces in place, I painted everything. After a little research and testing, the perfect colour match to the IKEA white cabinets is Simply White from Benjamin Moore.

To install the box, we started with the front panels. You want to make sure the panel is completely flush with the inside of the cabinet (not the doors). To secure, use a nail gun from the inside edge of the cabinet shooting straight into your MDF panel above.

Since you can't do the same technique for the side panels, you must nail directly into the side of the other panel as shown below.



To add decorative detail, we added some left over baseboard trim to the top of the box. This will also act as a way to close the gap at the ceiling.
The key to putting this up is not to use extreme pressure. Although your box is pretty secure, it's hallow in the middle. If you push with all your might, it could cave in. Holding your baseboard normally and nailing it into the panels will not move a thing.

To secure this, we used the nail gun around the entire premises of the trim.

For this next step, we added a shoe mold around the top edge for added detail. We used construction adhesive to glue it on.
After everything is all said and done, any nail marks, edges, inner corners and ceiling gaps were filled with DAP filler. I then sanded and retouched all the paint work afterwards.
And we ended up this, our very own custom kitchen soffit that looks like part of the our cabinets.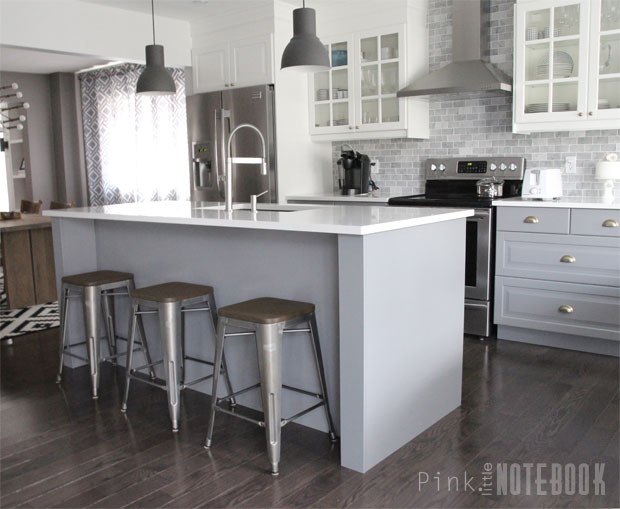 What do you think?
*Click through these links to see more about our kitchen plans, kitchen sink, creating an IKEA island, a kitchen recap, about our wallpaper, DIY built-in bench, DIY upholstered bench seat, about our kitchen chairs and our kitchen reveal.