Hey all!
Some of you maybe wondering what happened to the staircase project?! I swear we're gettin er done (slowly!).
Since my last post about staining, we've installed our treads. I can't tell you how great it is to finally have steps again!!! However, we have yet to install the railings and balusters. In order not to bore you with minor updates, I thought I'd post the reminder of the project once it's fully complete. Plus I know you all like a good before and after post 🙂
So this week, I'm finally moving on to the kitchen. The kitchen was one of the first things we started here at The Mod House Project and probably one of the least talked about spaces on Pink Little Notebook. Little by little, I'll be sharing some clever DIY projects that took place in this space and eventually showcasing one of our biggest transformations in the house!
To recap, we fully gutted our kitchen late last year and created a new layout with an IKEA kitchen. It's a small space but we wanted to update and utilize as much as we could with an open concept. To create more counter space, we created a huge 7 -foot island that is also home to our kitchen sink and dishwasher.
Keep in mind, I bought my kitchen just before IKEA switched to the SEKTION line so all my measurements are based on the AKURUM cabinets. However, if you are creating your own island, you're probably going to be using your own configurations anyways so adjust accordingly.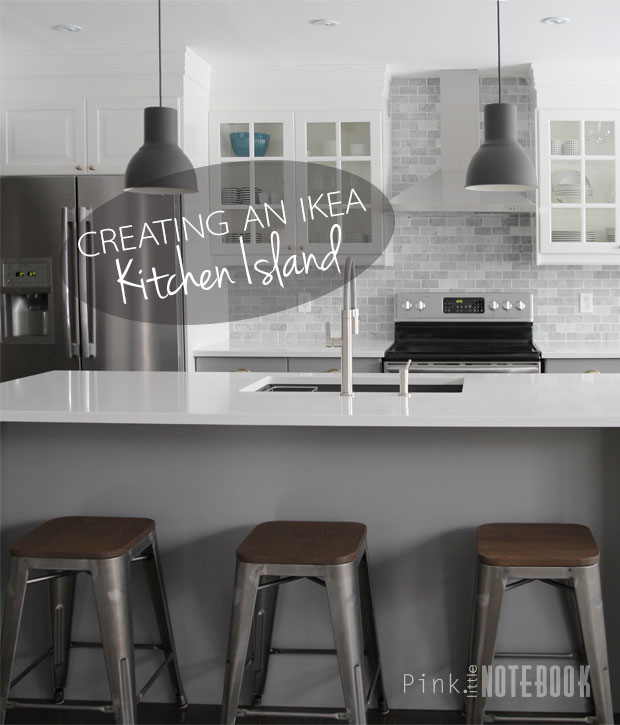 Specs.
We knew we had the room for a 7'x3′ kitchen island. We wanted to include three things: extra storage, sink and dishwasher. In order to accommodate the new location for the sink and dishwasher, we did have to relocate plumbing. Make sure you have that all set up prior to building an island.

Create a base.
When it comes to IKEA base cabinets, they come with plastic legs. Although I did use these legs for my base cabinets that were up against my wall, you CANNOT use them when creating a standalone island. It's not sturdy enough to hold your island in place especially if you're using a heavy stone countertop.
Instead, you need to create a wooden platform that is tightly secured to the floor. We used 2″x6″wood to prop our cabinets at our desired height of 36″.
Since we are adding a dishwasher on the right side, we only need the cabinets to sit on the platform. The dishwasher needs to be able to roll into place. However, in order to put up our back panel, the platform needed to extend behind the dishwasher as shown below. This is why we have this oddly shaped base.
Mike and Big Joe make sure that the base is properly levelled and secured to the floor. This is probably your most important step right here. If it's off, your entire countertop will not be levelled when it's comes time for installation.
Back cover panel.
Once we did a dry fit and everything fit perfectly, we began securing each piece. We started with the back of the island using PERFEKT LIDINGO cover panel (H96″xW36″) which we trimmed to 84″. We secured the panel from the inside of the wooden base.
Base Cabinets.
Next we placed the cabinets on top of the wooden platform and secured them down. Here comes the confusing part, the reason why our platform is 5″ shorter in the front is to allow for the front legs of the base cabinet. You know the ones, I told you not to use!
Here is the reason why we included the front legs only. It's no way supporting our cabinet but rather there to support the toe kicks (IKEA toe kicks snap on to the legs). If we didn't have a dishwasher, I would have just nailed the toe kick to the wooden base, however, since we do have a dishwasher, you need easy access to get underneath your appliance if anything were to happen in the future (extremely important!!).
Here's a close up of the legs and toe kick (PERFEKT LIDINGO plinth, 88″x4″).
This was our old dishwasher which we ended up replacing with something a little more sleeker but you could see how everything started to come together.
Side Panels.
Using another PERFEKT LIDINGO cover panel cut-to-size, we created the side panels using the below measurements.
The panels were secure in place with heavy duty brackets which were placed inside the panel wall and along the floor hidden from view.
Since the toe kick (PERFEKT LIDINGO plinth, 88″x4″) have finished edges, we used them to complete the box. To secure them, we used wood glue and finishing nails.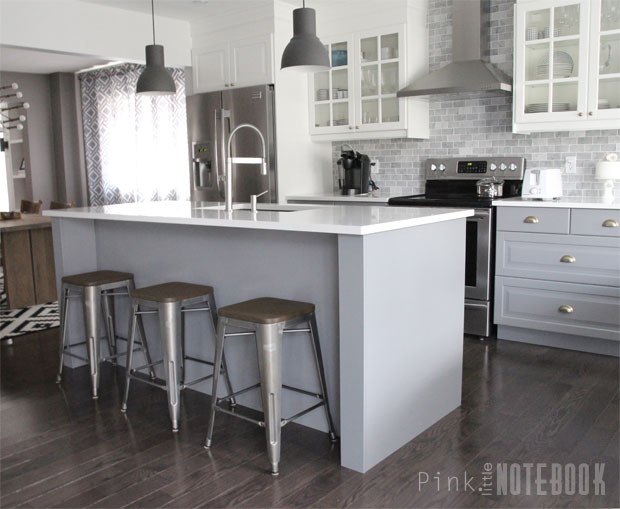 Once we complete our structure, we were quite happy with the results. It's an extremely sturdy island and looked even better once we got our countertop and sink installed.
If you want to take this one step further, you could use the toe kicks to create box panels on the sides of the island simply by nailing them in place. Not only would the added detail look amazing but would pair up nicely with the shaker cabinets. Something we are considering for the future!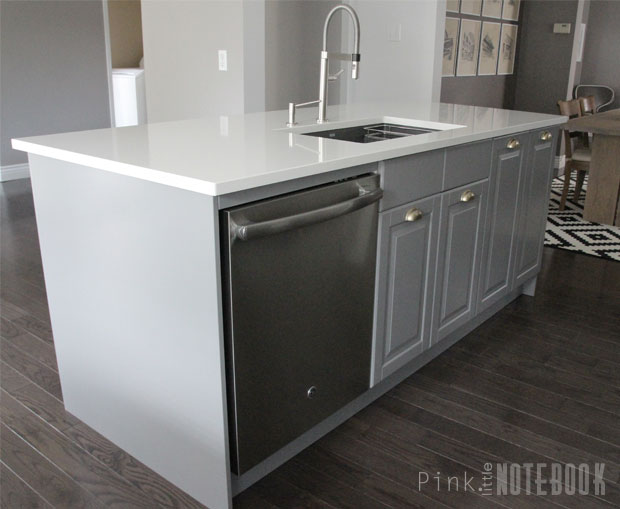 Would you create your own kitchen island?
*Click through these links to see more about our kitchen plans, kitchen sink, how to disguise a kitchen soffit, a kitchen recap, about our wallpaper, DIY built-in bench, DIY upholstered bench seat, about our kitchen chairs and our kitchen reveal.