About two years ago, the hubby and I moved into our second home together (you can see the first one here).  We've created a lot of memories but most certainly, we learned a few important things along the way.
Like . . .
1. Having a perfectly manicured lawn is really A LOT of work! (So proud of all of YOU that actually have one);
2. Living a minimal lifestyle is the way to go. If you don't use it, just lose it! It makes life so much easier when you have to move; and
3. If you want to see if you and your partner make a good team.  Just reno together. More often than not, sh*t hits the fan and if your still talking by the end of the day, you found your soul mate.   "If a couple can reno together, than they can do anything together".
Today I prepared this post, mostly as a little time capsule for myself, but also to share with you the many transformations that took place in our home over the last couple of years.  You will get to refer back to some of the before + after links that were posted here on Pink Little Notebook and also view never before seen rooms in the house (aka the "incomplete" projects).
So here's an in depth look of our former home. Be sure to leave a comment at the end and let me know what your favourite transformation was!
Exterior
I have to be honest, I hate orange brick.
Don't get me wrong.  I definitely don't mind orange as an accent colour but when it's covering your entire home, it really limits your choice of colour palette when working with your exterior.
Now there are a couple of tricks to tone down the orange and you can see how I did it using paint.

Front Entrance:
With a lack of storage and an empty corner, I created this cozy little nook at my front door.  Using some left over paint, I made a graphic pattern on the wall, created my very own DIY bench and accessorized with baskets, storage boxes and cushions for a very stylish look.  It's a perfect way to hide all those odds and ends that usually clutter my front door.


Family Room / Dinning Room:
This never before seen room is our combined family and dining room area.  We wanted to create a focal point with the fireplace so we re-tiled it right up to the ceiling showcasing its height.  As for the rest of the room, I never got around to finding the perfect accessory pieces to finish off this space the way I wanted to.


Kitchen:
The open concept kitchen to the family room and dinning area is one of my favourite features. It's perfect for entertaining. However, the magic of paint comes to the rescue once again. In the before image, you will see the previous owners chose a fluorescent green,  I toned it down with a mute colour to warm up the cabinets and overall atmosphere of the kitchen.


Hallway:
To this day, my best thrift store purchase were these frames I found for my staircase (12 in total).  However, repainting this staircase definitely made it on my "never do again" list.  Check out all the details here.


Master Bedroom:
Again here is another never before seen room. This master received a new wall colour + hardwood floors.  One of my many projects lined up for this room included a DIY headboard and feature wall. Of course, this never took place.  One of the many projects lined up for the new home!


Ensuite Bathroom:
We can't forget my latest bathroom reveal!  This is by far my favourite before + after transformation.  This bathroom was full of DIY's from creating faux wainscoting to painting tiles to refinishing the vanity. I really didn't think it would look this good in the end. Be sure to check out behind the scenes to see how we did it all.




Home Office:
One of my most popular before + after comes from this home office.  This feminine space was a dream to work in and a very functional space to use. I took a bold risk by painting my desk top blue and converting this desk unit into an "L" shape.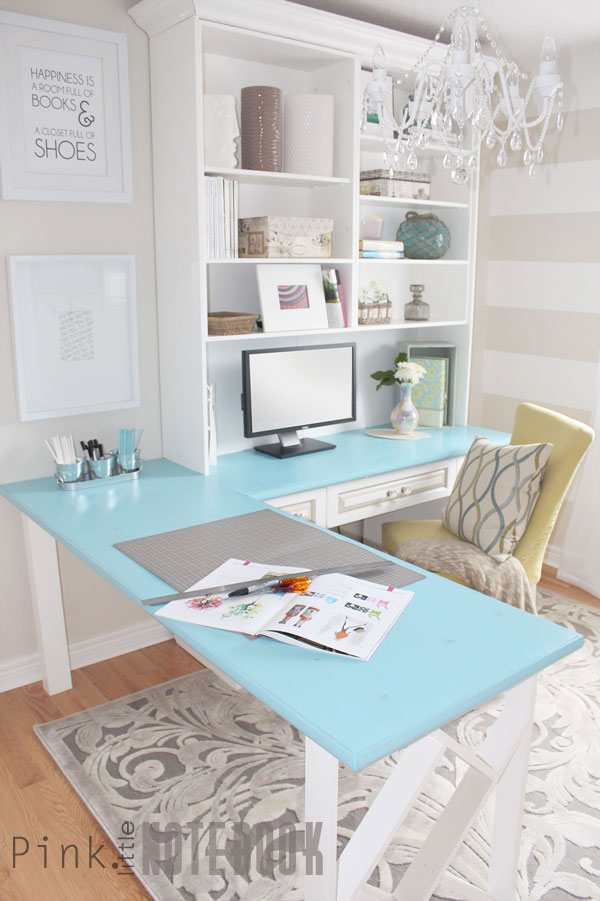 Guest Bedroom:
Another incomplete room!  I do love my bedspread from Homesense but still missing the perfect accessories to pull the look all together.

Guest bathroom:
Another lovely before + after bathroom post. This was one of the first reno that we did in the house. Changing out the tile, painting and refinishing our vanity was all that was needed to brighten this room up.



Laundry Room:
Last but not least we move to the basement. It begins with this very budget friendly laundry room reveal.  With a little paint magic and wooden shelves, I was able to make this hidden laundry room a  little more enjoyable to be in!



We began to paint our basement as well but never fully finished.  You can see all the details here.